Both sharing a restless optimism and the belief that youth is more a matter of attitude than a matter of age, courrèges and evian® propose to celebrate the coming new year in a very original and colorful way.Faithfull to this common spirit with its elegant white and blooming fluorescent pink dress of emblematic flowers, the new evian® Limited Edition 2012 bottle will be the best way to declare and share our joyful mood for celebration at all the party tables of the coming festive season.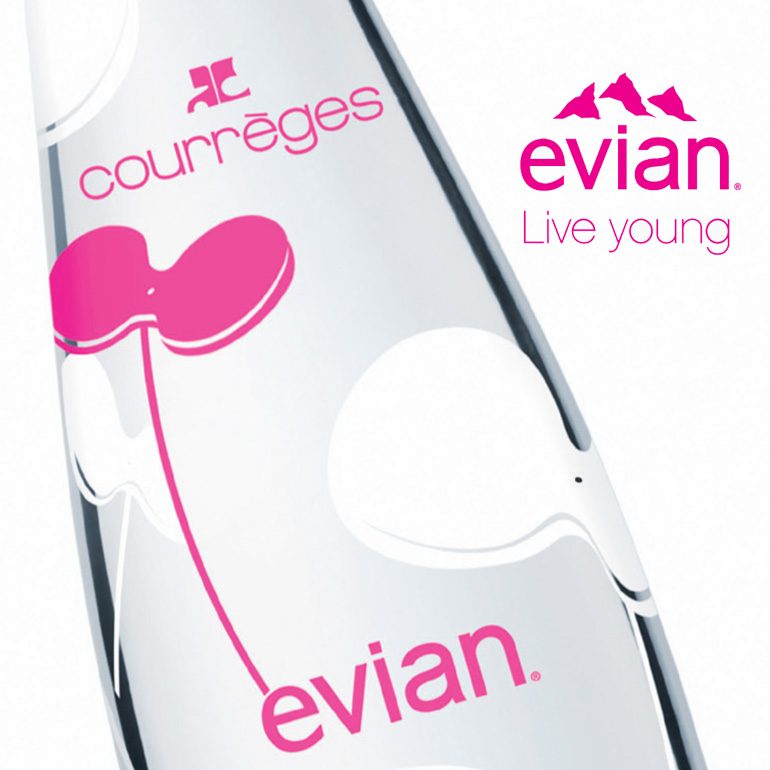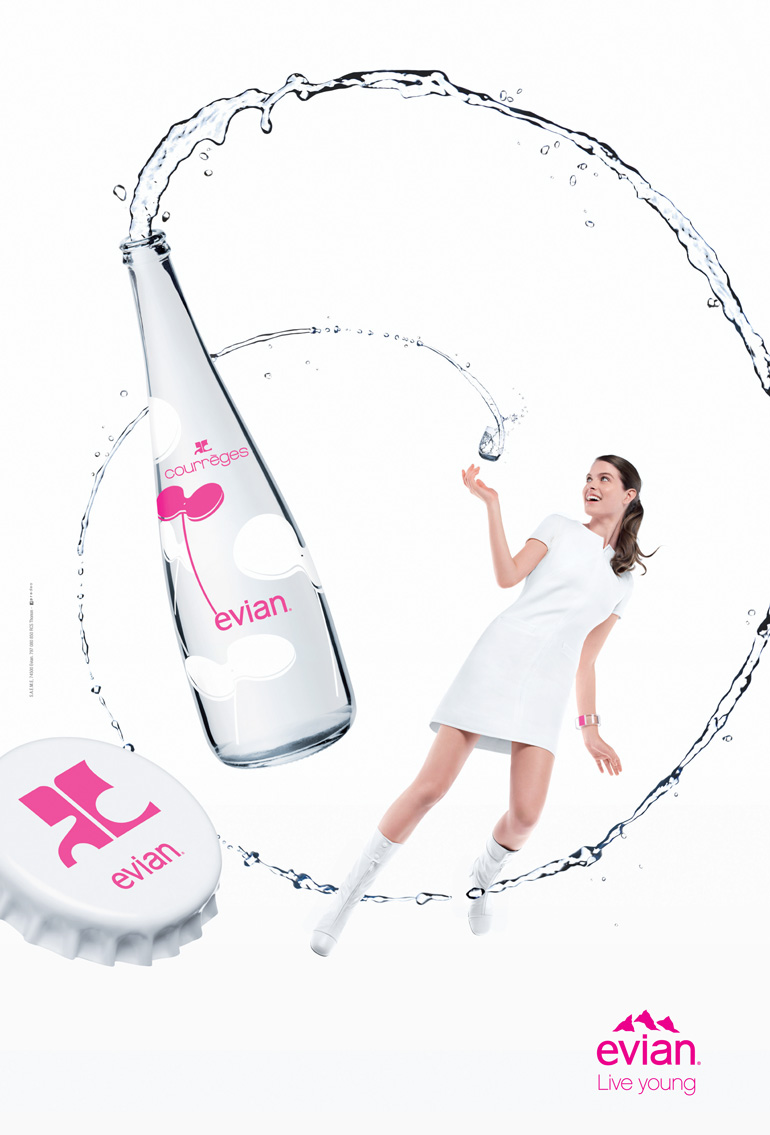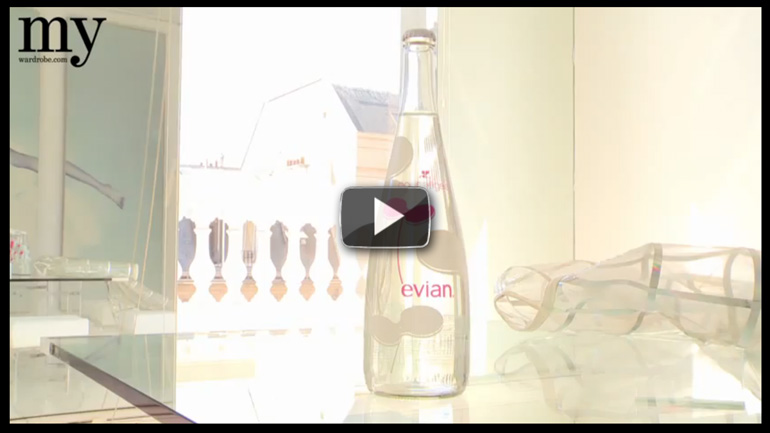 From his very beginnings as a couturier, André Courrèges has been driven by the will to free women from the classical conventions of fashion, by developing new forms, implementing new materials and using white and flashy colors.
Led by a restless and unconventional creativity as well as a strong belief in the future, his aim was that "each woman dressed in Courrèges
should be overwhelmed by a wave of optimism". A philosophy that still prevails today in the spirit and designs of Courrèges.
In 1967, André Courrèges created his emblematic flower which was used on several collections and
now on the evian® Limited Edition.
1923: Birth of André Courrèges, in Pau, France.
1935: Birth of Coqueline Barrière, in Hendaye, France.
1945: André Courrèges studies at École nationale des Ponts et Chaussées, in Pau.
1950: He starts working for Cristobal Balenciaga where he meets Coqueline in 1952.
1961: With Coqueline Courrèges, his "creative companion", André opens his first couture
house in Paris, avenue Kléber.
1962 – 1964: Courrèges lays down his own rules: trousers, little white dresses, flat boots.
Mrs Pompidou, Pauline de Rothschild, Romy Schneider and many other ladies from abroad get their
clothes from him. First appearance in Vogue and Harper's Bazaar.
1965: No more hats, no more heels: Courrèges has refined women's wardrobe. The white, very
structured forms, specially woven fabrics: his reputation is established. Praised to the skies in the
USA, his universe is "discovered" in France two years later.
July 1965: Imitated all over the world, he stops presenting new collections and launches the
Couture Future concept: offering to women all over the world the same clothing at the same time.
He decides to establish his own factory in Pau and trains his female workers.
March 1967: French women discover the pill, the first Courrèges's Parisian shop (rue François 1er)
and the Couture Future concept.
1969: First man on the Moon. Courrèges puts a ban on dresses, coats and trousers, and invents
the second skin tights.
1971: Launching of "Empreinte", first women's fragrance.
1972: Opening of the Pau factory which produces clothes for the 5 Courrèges shops in Paris, 62
in France and 125 all over the world.
He designs the clothes for all the 15,000 people of the staff of the Olympic Games. First oil crisis.
Courrèges starts to expand his licenses.
1973: Birth of Courrèges Homme.
1979: Creation of Sport Futur, a line of clothing exclusively devoted to sports.
Courrèges creates Courrèges Design, his 3rd company, to develop architectural projects dedicated
to the human way of life: housing, furniture, cars.
1986: Launching of Perspectives Courrèges: real estate programs in France, Brazil and Japan.
Exhibition "Nos années 60″ at Fondation Cartier, whose artistic director is André Courrèges.
1995: André Courrèges decides to devote his time to sculpture and painting.
Coqueline takes on the directorship of the couture house.
2002: Electric cars by Courrèges are aimed to save the Earth. First comes Bulle, then EXE in 2004,
ZOOOP in 2006 and 17.71 in 2008.
2008: Exhibition of sculptures by André Courrèges in Parc André Citroën, in Paris.
The book Courrèges is published, written by Erik Orsenna.
2011: Coqueline Courrèges decides to sell the Courrèges group to Jacques Bungert & Fredéric
Torloting to relaunch the brand, in a spirit of transmission of values.
Sharing the epitome of celebration with the evian® Limited Editions
Since 1992 and the Olympic Games Limited Edition, evian® has settled a unique rendez-vous with the
brand consumers worldwide, offering them unique original creations for end of year celebrations.
From bold and innovative designs to international fashion designer collaborations, each Limited Edition
keeps the same spirit: reinventing a rare and festive moment, that is to say an optimistic vision of
celebration and most of all the idea that "Youth is not a matter of age, it is a mindset".
1992: Albertville Limited Edition, beginning of the Limited Editions.
2000: Water drop shaped Limited Edition, evian® natural mineral water emblem.
2005: Mountain shaped Limited Edition, as an ôde to the Alps, evian®'s preserved birth place.
2008: Christian Lacroix Limited Edition. First collaboration with a major name in fashion, the Christmas
bottle imagined by the French creator wears a snowflakes patterned dress, as a poetic vision of evian®'s
celestial origin.
2009: Jean Paul Gaultier Limited Edition, a modern, bold and elegant design born from Gaultier's famous
marinière.
2010: Paul Smith for evian®, Live young spirit goes worldwide with a colorful and festive bottle
imagined by the most iconic of British designers.
2011: evian® by Issey Miyake, a pure and fresh design magnifying evian® water as source of life and fun,
in a poetic way.
2012: evian® Courrèges Limited Edition, a bottle inviting to share celebration and optimism with
its elegant white and blooming fluorescent pink dress.
Written by BDG.ro